Saturday the 23rd - DAY TEN
The Curiosity of Chance
- Ahhh, the 80's: a time of mullets, thin ties, acid washed jeans, British synthpop, and Cyndi Lauper. But also, the era of one of the greatest genre of comedies to ever rise to popularity: The John Hughes style High School Dramedy! This film is no exception to the genre, except for the fact that our lead character is an out gay boy, Chance Marquis (Tad Hilgenbrinck). The rest of this coming of age high school comedy is true to its form, including the idiot faculty, the good-hearted but misguided parents, the bully who threatens Chance's mere existence, the band of outcast misfits who prove to be worthy allies, and in the end, the fairy tale reversal of popularity which brings our once dejected hero into the loving embrace of all who tortured him. As Chance sings during the climax in front of the whole school at a battle of the bands competition, "don't worry who you are, stand up and you'll go far." Indeed. This film about cute high school boys was ironically sponsored by Steamworks (
http://www.steamworksonline.com/
)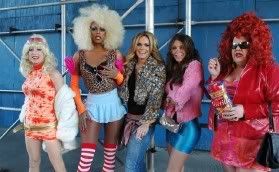 Starrbooty - America 's drag queen sweetheart shows off her raunchy side in this absolutely hilarious send-up of the blacksploitation genre. Actually there are so many loving nods to previous cult classics here that this film is destined to be viewed in sold out midnight movie houses for years to come. Director Mike Ruiz (Latin Boys Go to Hell) and RuPaul's labor of love mixes equal parts Russ Meyer sex-and-violence, John Waters dialogue and full-frontal-male-nudity, and Naked Gun slapstick. RuPaul is Starrbooty, former supermodel turned superagent, working undercover as a hooker to find her niece in a gritty New York body parts broker ring, ran by her arch nemesis, Annaka Manners (Candis Cayne). In order to maintain her authenticity while undercover, Starrbooty must commit to her role as a call girl by going all the way with her Johns. The movie not only titillates, but will have you dancing in the aisles with a RuPaul soundtrack containing such soon to be dance floor sensations as "Drop that Pimp, View to a Booty," and "Pussy for Sale ," all of which have a far greater funky soul than any previous RuPaul recording. RuPaul says she's working on releasing the soundtrack but doesn't think it will be released on cd, saying "that's so 2000 - it'll probably be released on iTunes and other digital formats, cause I'm current and shit
."
I spoke briefly with RuPaul before the screening and she described the film as "a combination of craziness and zaniness and wackiness and everything that's wrong!" When asked to comment on the throng of San Francisco Pride-goers gathered to get a glimpse of the supermodel, she waved to everyone and said, "Starrbooty was made for San Francisco!!"
The movie was an absolute scream with more quotable dialogue and rump shakin' goodness than anyone could ask for in a 90 minute "chick" flick.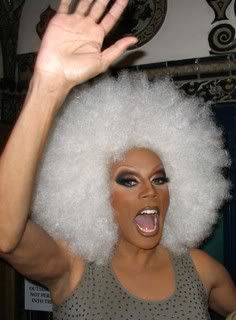 RuPaul said she would be out at all the festivals promoting Starrbooty so look for it near you!!! This evening's presentation was sponsored by ABSOLUT Vodka..
Sunday the 24th - closing night
Before the screening of the closing film of the 31st annual Frameline Film Festival, Jennifer Morris, Director of Programming for Frameline, bestowed the Frameline Award to this year's winner, Andrea Sperling, producer of Itty Bitty Titty Committee. Sperling has participated at Frameline over the years and has closed out several festivals in the past with her movies, including D.E.B.S., Pumpkin, Prozac Nation, But I'm A Cheerleader, Freak Weather, No Vacancy, Desert Blue, and with Gregg Araki : Nowhere, The Doom Generation, Totally F***ed Up, and The Living Dead. Sperling has been recognized for her continued progress in furthering queer cinema to new uncharted success and for her involvement in the Professional Organization of Women in Entertainment Reaching Up (POWERUP!). A brief retrospective of her work was shown, followed by her acceptance speech.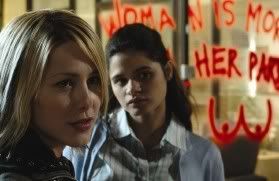 Itty Bitty Titty Committee
directed by Jamie Babbitt (But I'm A Cheerleader) is a feminist fairytale about a young woman, Anna (Melonie Diaz) who comes to terms with herself and her body with the aid of a leftist, feminist guerilla group known as Clits In Action (C(i)A). The CIA work to promote healthy body images for women being reared in a sexist, patriarchal, male dominated society. Their brand of terrorism includes spray painting the plastic surgery center where Anna works, plumping up mannequins at a bikini shop, and speaking out against marriage as an outdated form of slavery. Anna falls in love with the CIA's sexy ringleader, Sadie (Nicole Vicius), but is crushed to find out she has a girlfriend/sugarmomma, Courtney (thirtysomething's Melanie Mayron). Things begin to head south as the CIA discover that all their acts have been quickly undone or altogether unseen. The group tries to think of the ultimate scheme to get coverage for the fledgling extremist group, but no one has any ideas. Additionally, Sadie publicly chooses Courtney over Anna, and the group, which leads to the disbanding of the CIA. It becomes clear it's up to Anna to come up with a nationally televised assault on the nation's largest phallic symbol, save the day and the fate of the CIA. With a killer soundtrack of classic Riotgrrrl acts like LeTigre, Sleater Kinney, Team Dresch and Bikini Kill off of The Kill Rock Stars record label, this is by far one of the coolest lesbian date night movies ever created. A more proper closing to this year's festival could not have been orchestrated with a final message to filmgoers to stand up for change. Here's to the motherf*c!in' revolution!!!
Krimpdaddy!
Joseph Krimple is a Mortgage Banker residing in San Francisco, CA. When not punching the nine to five clock, he's an avid film buff, devoted music lover, and wannabe rockstar. He can be reached at jkrimple@hotmail.com