I love the Egyptian Theatre. It is such an amazing venue and LA is blessed to have such a historical theatre still operating in the city. Thank you American Cinematheque!! This is the theatre that first premiered the amazing A Star Is Born (The Judy Garland version) and so many other classic films.
I also love Outfest. They truly know how to throw an amzing party. And the films they program are almost always top rate. They are the oldest contigous festival in Los Angeles and this is Fusions 5th anniversary. It is also the only festival of it's kind in the world. From the opening announcement it is clear that this is a strong festival. "We're here, we're queer... and we intend to be recognized!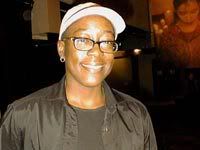 Before the opening night films were shown, Outfest gave a tribute award to a significant LGBT filmmaker. Cheryl Dunye, has had her work screened all over the world. She writes, directs, produces and stars in her work. She created a name for her style of work, "dunyementaries" because she is the subject in her early work. Her first feature "Watermelon Woman" was like most of her work as much social commentary as love story, comedy, drama! She is an amazing artist and I was pleased that Outfest recognized such an important director.
Now onto the films!!
The opening night shorts collection is a fantastic group of extremely well made films.
THE MATCHMAKER
Directed By Cinzia Puspita Rini
What am adorable film. A beautiful young lady seems to be admiring the cute male owner of a bookstore. He seems to be falling for her and she seems to be falling for him.... BUT wait for it.....She just wants to hook him up with her best gay pal. Highlarious!! A funny, cute, quirky, well acted film.
MAKE A WISH
Directed By Cherien Dabis
A young girl wants to buy a birthday cake. She does everything she can to get the money and by the end your heart is broken. A sweet inspirational film from war torn Palenstine about love loss and rememberance.
EL PRIMO
Directed By Nick Oceano
A bookish teenager goes to visit family and falls for his older and more mature cousin. A wonderfully acted and directed film. This is a story that most everyone has lived (maybe not with a cousin but hey..). Nick Oceano truly captures what it means to feel out of place. This was a world premiere and I truly loved it. Great performances from everyone in this short.
KALI MA
Directed By Soman Chainani
What can you say about a film you just love to watch, except bravo! This campy classy funny film is just a perfect piece of celluloid. A star making turn from the mother (Kamini Khanna) makes this film a joy from start to finish. Brendan Bradley is delicously evil as the foil that awakes protective Kali in the mother. I LOVE THIS FILM!
PARIAH
Directed By Dee Rees
This is a film that will launch the career of the filmmaker. It is amazing. The story, character and style of this film sets it as one of the best films of the year. this is the third tiome I have seen this movie. It won awards at LA Film Festival and Outfest this year. I really hope to see it on the nomination list for an Oscar. The performances by Adepero Oduye and Pernell Walker are extrordinary. Dee Rees is my pick for filmmaker to watch!! An extremely well crafted and mature film that makes you feel every ounce of pain and confusion.
The after party was hosted by Absolut as always at an Outfest party. It was jam packed with DJ's spinning and people spawled all throughout the Egyptian inside and out. In attendance were alot of GLBT stars.
Kristoffer