New York Jewish Film Festival
By: Marleah Martin
New York Jewish Film Festival Opening Night
Looking back on the film festivals I've attended, I've realized they've really run the gamut. On one end of the spectrum, there's been the big, glossy ones (which do not always translate to being organized, and quite often can be impersonal). And on the other, there's the smaller, more intimate festivals where there's perhaps less glamour and hype but quality programming nonetheless (which to me, is what it's really all about), not to mention the opportunity to speak one-on-one with people associated with the festival- a perk I've learned is invaluable.
And so, as I was on my to the Walter Reade Theater to attend the opening night of the New York Jewish Film Festival, I was curious as to how it would compare.
I was aware that the NYJFF, presented by the Film Society of Lincoln Center and the Jewish Museum, was well-known and highly respected. But beyond this, I knew little about it and could only project what the atmosphere might be like. I doubted that despite it being a larger event that it would be a flashy to-do (I was heading to a theater in Lincoln Center- a cultural institution that without question has a considerably dignified air); I imagined a more subdued feel. However, given the NYJFF's established reputation, it was going to draw a sizable audience and with all the hustle and bustle that could go hand-in-hand with that, I questioned whether I'd actually be able to pin anybody down as one usually can in the mellow environment often found at smaller festivals.
What I did sense soon after my arrival was that although there was high attendance, this was a well-oiled machine, and I had no problem checking in or touching base with my press contact. Additionally, it was managed by an incredibly helpful group of people; everyone I spoke to was very accommodating in directing me to whomever I needed to speak to. This continued at the post-screening reception, where the audience enjoyed complimentary hors d'œuvres and wine, and I had the occasion to speak to a few of the big players- among them Rachel Chanoff, an Independent Curator on the selection committee and Aviva Weintraub, Festival Director. Their time, enthusiasm, and well-thought out answers to my questions were appreciated, as it was clear they had a good deal of responsibility that night.
Press contacts Anne Scher and Alex Wittenberg were quite impressive in their swift delivery of screeners of films I was interested in reviewing but would not be able to see at the theater.
As far as the festival ambience- yes, it was perhaps more high-brow and low-key than others I've attended. Still, this doesn't equate with stuffiness and elitism; there was no attitude, no snobbery. What was present at this festival was a sort of refinement and a sense of pride, certainly in some measure due to it attracting a more mature audience who were there for a celebration of the Jewish experience as reflected in the cinema- not a glitzy, MTV-style affair- and who knew they could count on the NYJFF, now in its 17th year, to deliver. Given that, it goes without saying that the festival would have been a bit out-of-step in its tone were it to enlist the "hey how's everyone doing tonight? I can't HEAR yooooouuuu!!!" routine (followed by schwag being flung haphazardly into the crowd), and was more suited towards modest introductions and its classy after-party.
The feature film screened was A Hebrew Lesson, by David Ofek, Elinor Kowarsky and Ron Rotem. Following the screening was a brief Q&A with Elinor Kowarsky, a sweet, soft-spoken woman who was commended for her work on the film.
A Hebrew Lesson
- David Ofek: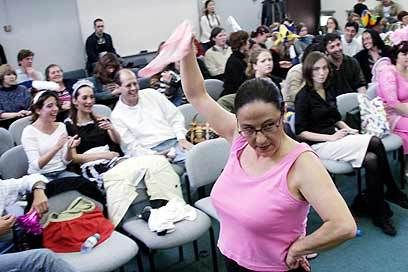 Following newly arrived immigrants to Israel in an intensive language class, A Hebrew Lesson is a touching film about a multicultural group of students learning to adapt to a new culture. Beyond learning Hebrew, they learn about the Jewish state as well- and these lessons, coupled with those they learn from daily life, facilitate the process of them shaping their opinions on how they feel about and approach living in Israel.
The opening scenes immediately promise, at the very least, a charming central character. We're introduced to Yoela, a dynamo of an instructor with a big heart. Her early interactions with the students are high-spirited and often amusing, as she gains their confidence through lively banter and a genuine interest in their lives. However, it isn't long before the focus widens to include a select few of the students in the class. Their stories are compelling, as they slowly come into their own and open up about their back stories, their reasons for coming to Israel and their personal takes on being immigrants in a land poles apart from their own.
All are confronted with some sort of difficulty- Sasha is there in an attempt to gain custody of his daughter. Dong Dong is affected by the poor conditions for Chinese workers she documents for her film. Annabel moved there for love and feels uncomfortably dependent on her fiancée. Marisol is unexpectedly pregnant by an unsupportive boyfriend. Even Chin, who possesses a calm, cheerful exterior, and seemingly has hit the jackpot in the game of life by marrying a wealthy former employer who adores her, struggles with the sorrow of not having her daughter with her in Israel.
Though 123 minutes long, for the most part the film avoids lags by keeping scenes brief, quickly cutting back and forth from the students' life experiences to the focal point- the classroom- and the two worlds become interwoven, each continuously impacting the other. Sometimes it's uplifting- Chin's repartee with her husband who doesn't seem to fully understand the language himself is one of the more comical scenes, and the compassion classmates express towards other allows one to love these captivating people even more. Other moments are straight up tear-jerkers; sometimes the baggage proves to be too much to check at the door, spilling over into the classroom and making the learning process of a language that's already challenging to master all the more frustrating.
To be sure, A Hebrew Lesson is a classic cinematic example of the cliche "when bad things happen to good people". By capitalizing on this detail (there was a hand in bringing that many engrossing stories into one room - the class was carefully assembled based on interviews with prospective students and teachers), the film brings on the tragic, tugging on the heartstrings and gaining personal investment in its subjects. But what the filmmakers could probably not have predicted (and where they probably got lucky) is the amount of resilience this group exhibits when faced with overwhelming adversity. And that perseverance to overcome obstacles is by far the strongest quality of A Hebrew Lesson's strongest point- its characters.
Praying With Lior
- Ilana Trachtman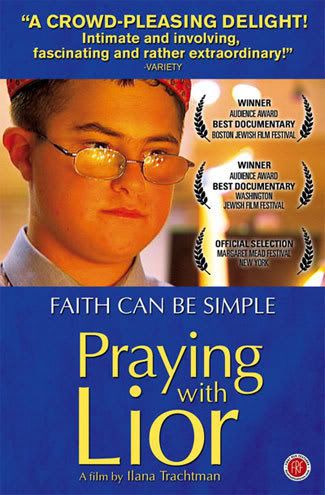 "Somehow he turned the learning into a dance instead of a struggle". That's what one interviewee in Ilana Trachtman's touching feature film had to say about its subject, Lior Liebling. Lior is a remarkable boy with resilient devotion to his faith, and who is often looked to by others in his community as a source of inspiration. He also has Down syndrome. Yet despite his limitations, more often than not he embraces the challenges he meets with resolve and enthusiasm.
In the weeks preceding Lior's Bar Mitzvah, we become acquainted with this affable, animated kid as he goes through the process of preparing for one of the most important moments of his life. His relationships with his family, classmates and community are explored- especially his bond with the spirit of his mother, which is ever-present since her passing several years prior. In getting to know Lior's family, we see a wide range of mixed emotions- there is pride, there is embarrassment. There is confidence in Lior, there is worry. Through these varying points of view, the film deftly shifts between lighthearted laugh-out-loud moments and snippets of daily life, to scenes that are decidedly more somber in tone. The rollercoaster ride illustrates the family's highs and lows, and that there's no oversimplifying Lior and the complex circumstances surrounding him.
But though the direction is on point, at the heart of it all is Lior himself- who holds our interest throughout with a modus operandi all his own. What's especially intriguing is how he demonstrates certain attributes many of us often lack. One can't help but take note of his self-confidence (with conviction he sincerely proclaims he is not nervous at all about his Bar Mitzvah), intense focus when davening (praying), expressiveness (his father Mordechai states "Lior has fewer veils between him and God"), and abundance of compassion. Lior even surprises us at times by his insight when in casual conversation he shows a palpable understanding of his relationship with the intangible- his mother, and God.
It's no wonder that members of his community are often profoundly affected by Lior. Here is a boy who innately possesses a spiritual devotion and emotional freedom they continually strive for (the idea for the film itself came after Trachtman's initial encounter with Lior when she witnessed his extraordinary commitment to prayer). Mordecai, though proud of his son, even expresses concern that some people may project too much on him. No doubt this is magnified by the fact that these qualities, recognized early on, have had a great deal attention drawn to them- so much perhaps that it causes people to have skewed perceptions of Lior and have overly high expectations.
And yet, here is a film that clearly highlights those very attributes that serve to boost Lior into that role model status- that may be above and beyond what those close to him deem appropriate. Even his flaws are presented in such a way that they make him seem that much more endearing, human and relatable. There's no argument that putting Lior's abilities front and center is what makes the film shine; he is rightfully portrayed as an inspiration. And yet it's worth noting that given the film's effective blend of humor and emotional weight, coupled with a main character you can't help but love- if there's any apprehension of Lior being subjected to borderline hero worship, the film might be too good at what it does. It's a bit of a catch-22. Nonetheless, the film is a powerful and necessary reminder that the common assumption of the mentally challenged being incapable of making meaningful contributions to society is a wholly inaccurate one. Hopefully, the general public will recognize that while they may understandably aspire to his level of spiritual fulfillment, at the same time it's important to keep a balanced perspective. As Mordecai puts it, Lior should not be viewed as a "conscious spiritual teacher", but rather, "a lovable child" with beautiful qualities we can perhaps all learn from.
Following the screening was a Q&A with Ilana Trachtman, Mordechai Liebling and Lior's stepmother Lynne Iser. It started as a fairly typical session with standard questions regarding distribution (it's been picked up by First Run Features and opens at Cinema Village on 2/1), Trachtman's inspiration for the film, and what her future plans are. One issue worthy of note was Trachtman's struggle to get the film picked up- she was told on more than one occasion that no one would want to see a film about a child with a disability, which in my opinion couldn't be further from the truth, particularly a film as affecting and inspirational as this one.
Going forward, things got heated in the room before long; when one well-meaning audience member intended to pay a compliment to the parents, but used the word "mongoloid"- a term considered outdated and offensive- to refer to those with Down syndrome, it caused a real stir. In fact, the terminology proved too much for one incensed woman to bear, who a moment later expressed her deep aversion in a fiery tirade. At this point, the room was basically a pressure cooker. Fortunately, Iser managed to smooth things over and calm the room down by in effect saying we all can learn something from this experience.
I had hoped to speak to Iser a little more afterwards- and did have the chance to inquire as to how Lior has responded to this film. She was friendly enough, and her response was that he loves to watch it, but there didn't seem to be time to get into more detail. Yet I suppose if I had been the one to have just diffused a discordant situation, I might want to hightail it out of there too. Even so, having Lior's parents present for the Q&A to speak more about their family and the film was much appreciated.
Jerusalem is Proud to Present
- Nitzan Gilady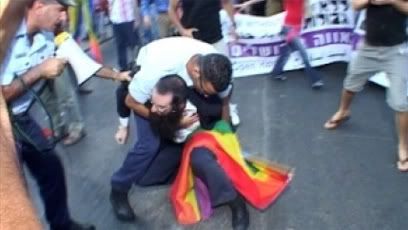 The story of formidable efforts to host a World Pride parade and celebration in Jerusalem, the film documents the battle between the LGBT community attempting to host the event and the staunch religious groups who express strong resistance.
If Gilady's intent was to present an impartial documentary that voiced the opinions of both sides here, it seems he's taken on a nearly impossible task. On one side, you've got Open House for Pride and Tolerance, the LGBT organization based in Jerusalem that coordinates World Pride. They aim for a low-key affair; flagrant displays of flesh by thong-clad vogueing go-go boys or lesbians parading topless through the Holy City are firmly eschewed in favor of a more modest approach. The intent is to simply have one day to demonstrate gay pride by peacefully marching through the streets of the nation's capital.
On the other side are those opposed to the march- the focus of the film mainly being on the Jewish Orthodox community. Deep religious convictions cause outrage at the notion of a pride march, and Open House is the target of- to put it mildly- great hostility. But what's shocking is to see the lengths that the opposition- a faith-based group- will go to. Ethics are often abandoned, the tactics going beyond mere civic attempts to block World Pride and moving into the just plain hateful. Intimidation, humiliation, mockery and outrageous claims abound. Worse, it's sickening to see the actual enjoyment many take in the abuse of those attempting to push World Pride through. Sadly, this even occurs in settings that are unquestionably inappropriate, such as City Council. Violent threats and a loosely-organized procession called the Beast Parade- too distasteful to elaborate on here- further bear out who's really acting like beasts here. By virtue of the Orthodox community's combative behavior and arguments bordering on the absurd ("of course [homosexuality] can be fixed with medication and with psychological help" is one of many brazenly stated, astoundingly out-of-touch assertions), it is out of the question for anyone with a shred of logical reasoning and human compassion to not sympathize with the LGBT community's endeavors.
To be sure, some brilliant editing assists in effectively pointing out the holes in the logic of those representing the Orthodox community. Yet regardless, though one outrageous claim after another is paraded across the screen, it's coming straight from their own mouths- Gilady's just catching it on camera. One bit coming from a woman at an anti-World Pride pow-wow is so ludicrous, the audience erupted in fits of laughter- "HIV virus is going to climb by 30%....they have 500 partners every couple of years…they just grab people. They'll grab youth". Yep. Dead serious (even her peers seemed a little uncertain as to how to address this off-the-wall theory). You have to laugh, or you'd cry; the film really couldn't invent material that wacky if it tried.
With all the stumbling blocks (the war in Lebanon throws a monkey wrench into the plans as well), it would be enough for anyone to throw in the towel. The members of Open House do in fact have their doubts, fears, and moments when they're ready to call it quits. It's heartbreaking to see these people- a truly likable, eclectic bunch- endure cruel treatment again and again. However, when all is said and done they're a group of incredibly strong people who, united, manage to somehow pull through.
Is it tough to watch them get there? Yes. Is there a perfect ending? Unfortunately, no. But this is a doc, not fiction- in a film capturing a slice of life, one can rarely expect a fairy-tale ending. Still there's marked feelings of triumphs and hope that we share with those living it. And so though it may not be the most comfortable 82 minutes to sit through, it's nonetheless worthwhile; the subject matter is of high importance, the characters engaging and admirable, the editing tight and well-paced. Watch it in the spirit of the heroes- one of optimism- to get past the discomfort and frustration from how they are treated in order to fully appreciate the positive aspects of their experience- and the fine film that captures it all.
Marleah Martin