SmogDance

by Rowan Harrison
Not being a big connoisseur of the short film format, I liken short films to a drawing that an artist uses in laying the foundation to a much greater composition. In some cases a drawing can be a complete rendered piece of art that achieves the spiritual creative journey and the artistic elements of its creator. A drawing for the most part is an artistic expression, of movement, gesture, composition, technique and lighting, all of these elements plus the humanistic desire to tell a story on film, were all represented, in the short film format at this years, SmogDance Film Festival at the Harvey Mudd College in Clairmont, CA.
While Park City, Utah has its star studded winter fest, SunDance, Clairmont has its………SmogDance? A few miles north of interstate 10, sitting below the snow covered San Gabriel Mountains, sits the charming community of Clairmont. Tree lined streets and quaint historic buildings make up for the college town feel that it represents. With seven colleges of higher learning, the city plays host to the 10th anniversary of Smog Dance. This three day festival held at the Harvey Mudd College, showcases the best in short films from local and international filmmakers. Thanks to all the wonderful staff and special thanks to festival director, Charlotte Cousins, for making this a splendid evening to up and coming filmmakers.
Simulacra
– writer/animator: Tatchapon Lertwirojkul
Lertwirjkul takes us on a 4 minute escapade into a 3 dimensional conceptual futuristic world, where all elements of the natural world are obsolete and non existent except one. A robot surveying the architectural landscape is interrupted by a floating flower petal; all readings indicate that it's an organic flower, that are extinct. Curiosity and a mechanical bird, takes our friendly animated computerized robot to the known origin of a flower. Within the secured premises the natural flower grows, enchanted by its radiant beauty our happy robot friend preserves it, not fully aware if it's ironic implications. Tatchapon allows the laws and concepts of perspective and animation to flourish, in his imaginary futuristic world.
Deleted Scenes
– writer/director: Ryan Gielen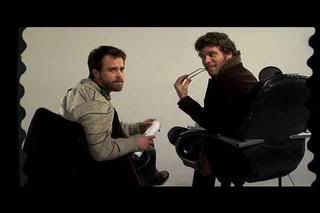 In a short where art imitates life and life imitates art, a writer/director and the leading male actor indulge themselves in rivalry as they lay down the voiceovers to the directors commentaries, to their film South Bronx. Josh Davis and Brian Adler, begin their work in a cordial fashion, egos compete, viewpoints clash and when an attractive female assistant caters to them, tension and animosity boils over. Amusing and intelligent, South Bronx gives us a twisted behind the scenes, insight into the making of those directors commentaries that accompany feature films on DVD.
The Room
– writer/director: Aves Meza Valdes
A young woman sits, fetal position, shivering with fear and fright in the corner of a dark blood stained chamber. Like a chapter out of an Edgar Allen Poe story but very reminiscent of the blood splattering gore of Saw. The Room takes us on a macabre tale of terror as a young woman is held captive, with her dead boyfriend lying at her side. Periodically, the captors young sister brings her pills and food through a small sliding window, an oddly enough wants her homework check, using a crayon. Wonderfully photographed, with a sensitive touch to lighting and composition the tale gets even spookier when a gothic wolf man enters the picture.
The Late Mister Cubicle
– writer/animator: Franz Keller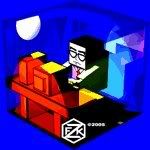 This animated 3 minute bit, takes us into the very familiar world of the office environment, the Mister Cubicle spends long hours in front of his PC. Overcome with fatigue, he slips into a dream state where the fast paced chase ensues. Accompanied with groovy electronic music, the Mister Cubicle embarks on one of the all too familiar dreams of mortal danger as he is being pursued by a knife wielding maniac. Fast paced animation, similar to the Power Puff Girls, but with a stronger color palette, The Late Mister Cubicle takes us into the pit traps of burning the midnight oil.
My Day At the Beach
– writer/director: Andy Messersmith
Perhaps one of the least technical and artistic films in the bunch, yet its calm and subtle story line makes is one of the more potent shorts within the evenings program. A young couple is out on a days outing in a warm soothing tropical south pacific island. Messersmith carefully sets us up for the coup de grace by allowing us to follow the young couple in love, on there day at the beach. A disturbing quiet tone permeates as the couples settles on the sandy beach, engage in small talk while the waves flap on the shore and beachgoers mill about. Yet when a confession of unfaithfulness is made the quiet calm foundation is abruptly interrupted in a single act of rage. The contrast is elevated when everyone goes home after a pleasant day in the sun.
Pizza Guy
– writer/director: Annie Symmons, Cindy Merrill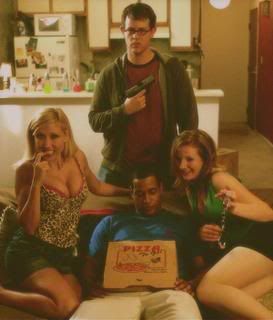 What happens when two bimbo's order pizza and the pizza man ends up getting killed? Touching on the shenanigans of a Lucy and Ethel routine, two college roommates order out for pizza, as they get ready for an evening of movies, pizza and BJ's. While they settle in Lizzy's roommate begins to eat her pizza, when she notices blood on her slice. It turns out Lizzy killed the pizza guy with her car, "where's the body?" "In front of the car." In comedic fashion they drag and plop the body on the couch, "wow, he's cute" which prompts them to change into more reveling nightclub attire. The zaniness is supported by a closet homosexual and two cops who knock at the door in response to a gun shot in the area. The female partner gets annoyed as her male counterpart openly flirts with the girls. Pizza Guy seems to rely heavily on sit-com situations and the use of props, that in many ways works well, is amusing and adds to the notion of……….pizza and girls just don't mix.
Diary of a User
– writer/director: Mcdaniel
Relying heavily on spoken word, poetry, photography and a brilliant Miles Davis track, Diary of a User, "is a story of many things but what it aint't is joy" this 4 minute solemn confession of one persons battle with drugs is a fittingly portrait of the struggle within urban life. Wonderfully photographed, with definitive exercises in perspective, the film comes across as a truthful and honest testament to the always common denominator that drug users share, hope.
Lost Utopia
– writer/animator: Mizue
A visually pleasing motif of amoebas, cells, jellyfishes and millipedes, Lost Utopia creates a kaleidoscope of animated motion and fluidity. Its design elements flow in a sea of turquoise, blues and reds while moving around to another instrumental jazz number. While the message of the film, this reviewer didn't get, if there was one, was partially lost because the visuals were so stimulating, it was easy to get lost in this organic 5 minute animated universe.
Vanished Acres
– writer/director Adam Bolt
2nd to the longest short of the evening is the half hour story of a farmer living his meager existence on an isolated farm. Our story begins with a series of family photos, common household items, still lifes bathed in a dark light, that represent the pivotal characters and their dark family secrets. For Jerod Gerot, his solitary life is disturbingly interrupted when he stumbles upon letters written by his now, deceased wife. A flood of emotions, rain down on Gerot, as he learns that his wife had an extra marital affair, he turns to his only companion a scarecrow for answers. Unveiling that Gerot spent many years neglecting his wife and was unable to give the love that she needed, she turned her emotions and longing onto his scarecrow. Vanished Acres, having one of the more developed characters, within the set of shorts, takes us through shades of melancholy, sadness, and heartache as an elderly man has to deal with his indifferent past.
Strangely Inappropriate Guy
– writer/director Paul Bartholomew
Now in the shortest, short of the evening clocking in at a humorously 2 minutes is, the goof ball shenanigans of a Strangely Inappropriate Guy. This is a fun take on coworkers, emotional response to some very bizarre yet entertaining behavior from a fellow office worker. A quirky dance at the copying machine, genitals on the desk, and an absurd robotic sexual number are just some of the off beat and seemingly spontaneous office humor of a Strangely Inappropriate Guy. Now if we could only have more characters like this in our daily office world that would make things rather interesting.
Radio
– writer/director Jeffrey L. Gangwisch
Before the advent of the modern television, in a bygone era, the radio was the main source of media to connect us to the events that shaped our society, outside the living rooms of millions of Americans before the 1930's. In a seemingly improvised setting, we are taken into the studio of a live radio program and all of its players on the microphone. Shot appropriately in black and white, Radio adds to the nostalgia of radio programming, as we see the unfolding and escalating drama, in a story of love and betrayal. In between segments of commercially endorsed products are added to the mix, taking and reminding us of an era where, the elements of society came between two dials.
20Q
– writer/director Benjamin Keith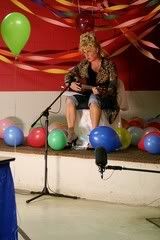 In an age where documentary films are progressively entering the mainstream and the mockumentary are increasingly poking fun at such serious film endeavors. 20Q tinkers with the all popular game of twenty questions, by creating a fictitious tournament in a small middle of American town. In this imaginary amusing world, our host of the game show takes us on the logistics of organizing the contest, which is heralded as a star studded event. Of course no contest is complete without its contestants, and a small yet zany group they are. First we begin with Lolita Dorchuck whose family origins can be traced all the way to Rasputin, an African American hair stylist with the fake weaves, and then there is the prodigal bratty child star, all are given their share of what the contest means to them, in candid interviews. 20Q is an amusing frolic, with a wide range of goofy characters; it in many ways reminds me of segments of The Office coupled with a little Borat, all in all a good time.
Rowan Harrison