The 2007 Bluegrass Independent Film Festival was presented by the Arts Association of Oldham County on September 7 – 9 in La Grange, KY. This is the third year for the fledgling festival which has grown in attendance and exposure with each passing year. Nearly 180 films were submitted for consideration this year from all over the world with roughly 80 making it to the big screens of the Great Escape Oldham 8 Theatre. The festival is also a tribute to famed director D.W. Griffith who was born in La Grange, KY.



Correspondents from IndieExpress, Daniel Hargrove and Emily Breeding, were on hand for all three days of the festival. They arrived early on Friday and were greeted by the smiling festival staff who furnished them with their passes and film festival schedules for the weekend. All of the members of the Arts Association, the technical staff, and other volunteers were engaging, friendly and helpful. Many of the filmmakers were heard commenting on the amazing level of hospitality shown to them throughout the weekend. We also would like to thank them for their hospitality.


SHARQ
(22m, Kuwait)
Directed by Erik Sandoval

sandovalerik@gmail.com

Even in only 22 minutes, SHARQ has everything good cinema should have: beautiful cinematography, playfulness, and glimpses of good and ugly emotions. Made in Kuwait, it's the story of six adolescent boys who go to the city on a quest to find SHARQ, a wonderland of toys where they can find the ultimate, indestructible soccer ball. Director Erik Sandoval uses tight editing and narrative music to pull the audience right into these boys' world, and we follow them effortlessly from road trip comedy to a tense political discussion back to energetic humor. It's my pick for best picture—a must see!
-Emily Breeding


The List
(120m, USA)
Directed by Gary Wheeler

www.thelist-themovie.com
World Premiere


The List was a Southern gothic tale involving a young lawyer whose recently deceased father has bequeathed to him a dark family secret dating back to the Civil War – and nothing else. Boasting a great cast including names such as Malcolm McDowell and Pat Hingle (Commissioner Gordon from the Batman features), the film included extremely strong viewpoints regarding greed, secrecy and faith
This reviewer found the film to be promising, but somewhat longer than it needed to be to convey its major points. Posing as a mix between a John Grisham thriller and National Treasure, the film's religious messages might be considered by some as overpowering to the plot, leaving some loose ends when all is said and done.
-Daniel Hargrove

Script Cops
(7m, USA)
Directed by Scott Rice

www.wolfriverpictures.com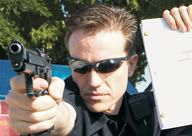 A hilarious parody of TV's COPS where uniformed officers take to the streets to arrest bad screenwriters. This short was truly one of the best films of the weekend and even included the theme song "Bad Boys." Truly, what'ya gonna do? See this film, that's what.
-Daniel Hargrove


Dartsville
(23m, USA)
Directed by Tony West

www.woodvillegeneralfilms.com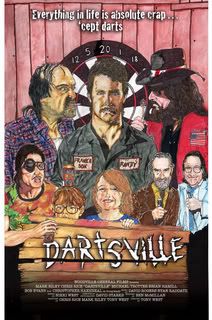 Dartsville is the story of a young boy who innocently beats his dart-throwing champion father in front an audience (and television cameras) right before the big "tourney." After his father forbids him to ever touch another dart again, we follow his struggle throughout adolescence and adulthood to stay away from the ever-tempting bullseye. The short was quite good. It kept is "redneck" characters fun and endearing and its audience laughing.


Daniel Hargrove


Available Men
(15m, USA)
Directed by David Dean Bottrell

industryguy@earthlink.net

This short was a witty "comedy of errors" involving four men in a cafe. One man is a Hollywood agent waiting to pitch his services to a hot, new writer. Another man is a sweet and sensitive gay man waiting for a blind date. These two each hook up with the man for which the other is waiting -hilarity ensues.
-Daniel Hargrove


The Metrosexual
(84m, USA)
Directed by Adam Kaufman

themetrosexual@gmail.com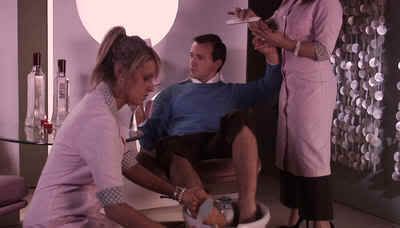 The Metrosexual not only delivers a rich soundtrack filled with '80's hits, but also plenty of laughs, drama and even a little romance. The lead character, Eric, is a 33-year-old man who's basically been stuck in the '80's since his mother died when he was 16. This void also left him with the responsibility of caring for his eccentric, and endearing, father. It's basically a "how to" for sensitive, single, straight men who may be a little to precise and a little too controlling.
Described by some audience members in the Q&A as a "grownup Ferris Beuller" this film captured the heart of the film festival taking home the prize for Best Feature. I enjoyed every minute of it and can't wait to get my DVD copy.
-Daniel Hargrove

Tattered Angel
(95m, USA)
Directed by Will Benson

www.tatteredangel.com
World Premiere


An entertaining and thrilling feature, Tattered Angel grabs hold and doesn't let go. Vince Jacob's older sister was kidnapped and murdered years ago when he was a child. Still visibly haunted by the past and now an adult, he's home for his mother's funeral and another girl is abducted. Vince is the only "witness" to the abduction. Will he become the only suspect as well?
As Vince joins the search for the missing girl, his memories of the past seem to interfere with his recollections of the new kidnapping. The film really captured the audience's attention and made a mark for itself in the "edge-of-your-seat" genre. Pop culture icon Lynda Carter, TV's Wonder Woman, did an outstanding job portraying the missing girl's mother.
This reviewer was fortunate enough to spend quite a bit of time over the weekend discussing the film with its director, Will Benson. He was extremely approachable and really helped me to understand what all he went through to bring his labor of love to the screen. Just like a proud father, he beamed over his cast and regaled me with stories of the lovely Lynda. Having the distinct pleasure of meeting Ms. Carter earlier this year myself, Benson and I swapped comments about how genuine and down to earth we found her to be. As a lifelong fan of hers, I was pleased to hear how much she believed in and supported the film. I agree with her tastes. This one would be another DVD purchase for me. Check it out if you get the chance.
-Daniel Hargrove


Glorious Mail
(86m, USA)
Directed by J.D. Evermore

www.gloriousmail.com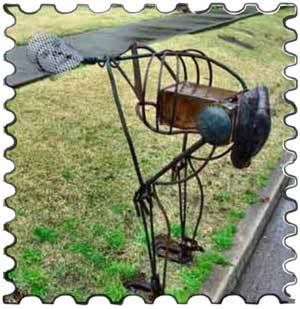 Glorious Mail is a comedy that inspires bust-out laughs in theater chairs and recognitions at film festivals. Producer Alice Walker and actor Bruce Butler gave me an intriguing pitch before the screening: a feature-length film about a documentary filmmaker who travels to Mississippi to investigate a scandalous… mailbox. To my delight, Glorious Mail not only brought the funny, but also some qualities often absent from the mockumentary genre. It has energy, continuously developing characters, very fine attention to detail, and spot-on locations.
It's not surprising, then, that Glorious Mail picked up Best Feature at the Indie Grits Festival and second place at the Appalachian Film Fest. Grey Sample was also named Best Actor for his performance as Cesar, a flamboyant gay man who unfortunately tries to have it both ways: live in a small town in the Bible Belt AND have an abstract sculpture of a man with his ass in the air as a mailbox. The filmmakers opened the door to improvisation, and the actors ran right through it. Characters asked about the scandal include an aging local who likes to whip it out (referenced and not demonstrated, thankfully, to our decidedly-not-gay-because-he's-Jewish documentary maker) and the community playhouse director who rambles aggressively about how much he understands Napoleon, man.
Yes, mockumentaries have been done, but the creativity here is an 11, from backgrounds displaying more-than-snicker-worthy playhouse posters to a full-out music video. Through its parody of the "righteous" and the "eccentric," Glorious Mail touches on issues of homophobia, freedom of expression and self-discovery. Fortunately, though, it does this while making you feel like you're just having a good time watching a likeable guy tell an absurdly funny story about a town he went to once.
-Emily Breeding

Thanks Emily and Daniel! Be sure to see this festival next year.