9 Lives of Mara

Directed by Balaji K. Kumar


Young Robin believes his new step mother is a witch. With the help of his foul mouthed friend Larry, (hilariously played by Troy Gentile) the two discover a book, called The Malleus Maleficarium, which explains everything you would ever want to know about witchcraft, but were afraid to ask.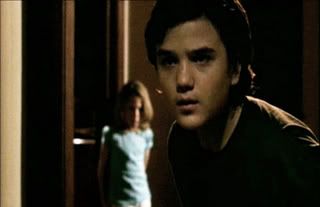 The movie was shot on 35mm and was visually breathtaking. The lighting, editing, direction, camera angles, and acting were all above par for a "low budget film" and in this reviewer's opinion, blew the competition out of the water at the Fright Night Film Fest in Louisville KY. Not only is the look of the film excellent, but the storytelling is exceedingly well done. Director Kumar uses some very interesting techniques. One of the techniques used was replacing the young Robin with an older Robin in different scenes. Partly done because the older Robin spends much of the film "narrating" flashbacks to his psychiatrist, but, I also believe that Kumar may have had a deeper purpose than that. As a teacher, I am constantly made aware of young children having to be exposed to adult situations and having to grow up too fast in a cruel world. I believe Kumar was making a commentary about the state of a society that abuses, victimizes, and overwhelms its children with adult horrors, only to discover that a child's vengeance can be just as severe and horrific as any adult's. When the older Robin is used in 'flashback images' of the film, you begin to understand the harshness of Robin's adult decision to kill his step mother even though he is just a kid. Both Robins were convincingly portrayed by Chad Donella (older Robin) and Bret Loehr (younger Robin). Using, treating, and trying children as adults is a continued theme in this film, even through a series of court scenes (that looked as though they were taken straight out of the a-ha video "Take on Me").


I read a few reviews of this film that were concerned with the theme of witch hunting and women. Stating that since Robin refers to The Malleus Maleficarium (used during the Inquisition to hunt down and slaughter young women believed to be witches) to help him kill his step mother, this film is misogynistic in nature. I disagree; this film is a Thriller… a keep you guessing….psychological thriller, which is anything but misogynistic towards women. We the viewers never actually see Mara kill anyone in this film, begging the question…Is she really a witch? Or is Robin just nuts? Even the ending explanation, which can be interpreted in many ways, leaves us wondering and guessing. Don't put too much into it folks, it's just a story, and a pretty good one to boot. With Shakespearian plot twists, Lovecraftian influences, film noir visualizations and Grimm characters, the 9 Lives of Mara is a must see.

For more information go to:

http://www.9livesofmara.com/
Last but not least, as I come to the end of my blogs for the Fright Night Film Fest, I want to put one last "Shout Out" to writer Sean Clark and his wonderful TV series

Horror's Hallowed Grounds

. Apparently Sean Clark created this television show, but had to put it on hiatus while he completed his up-coming full length feature film called The Black Waters of Echo's Pond, starring Robert Patrick. I hope, hope, hope, that Horror's Hallowed Grounds will get picked up by a network soon. Perhaps Mr. Clark will be able to focus on his TV show now that his film is in post production. Horror's Hallowed Grounds was originally an on-line article on DreadCentral.com and was later developed into a television show. Sean Clark travels around visiting the locations of horror and cult films, showing what they are like today, while doing retrospectives of the films. While at the film fest in Louisville, I got to see an episode…it rocked! One of my most favorite things to do while I am traveling is to find horror film locations…just this past summer I drove down the Northern California coast, making my friends NUTS with my constant quotes from The Fog…"There is something in the fog, stay out of the fog!"…
Anyway, I think the concept for this television show is wonderful and I truly hope to see more episodes in the future.
For more information go to:

http://www.horrorshallowedgrounds.com/
or

http://dreadcentral.com/index.php?name=Sections&req=listarticles&secid=1