The opening night of the Valley Film Festival showed one of the classic Valley films of the 80's. Fast Times At Ridgemont High, directed by Amy Heckerling. This is a great film to kick off a festival that is proud to be in the (818) exchange. Amy was on hand to do a Q&A after the film as well as Robert Romanus one of the stars. It was quite amazing to see how many future oscar winners were in this movie. 3 Best actor winners: Sean Penn, Forrest Whitaker and in a non speaking role Nicholas Cage. She said that Cage tried to improvise dialogue alot and none of it worked. That made me laugh alot!
The networking after party was great. I met the directors of a few of the films, met a few new friends and had some of the Capolla wine provided by the Francis Ford Coppola Winery. The event and the entire festival takes place at an intrigueing venue The El Portal Theatre in the NOHO Arts district. It is a stage venue mainly. The seats were a little uncomfortable at times, but not to bad. The view and rake of the auditorium was excellent. I was really impressed with the theatre and was surprised by the space. You should check it out.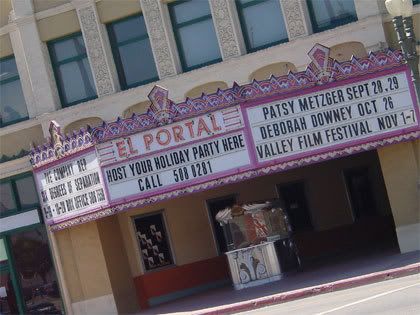 Built in 1926, the El Portal Theatre is an historical landmark located in the heart of NoHo. The El Portal theatre opened in the San Fernando Valley, as a vaudeville and silent movie theatre. During the sound era, it became one of the city's most prominent second-run houses. It eventually became an all-Spanish language movie theatre. To learn more go to http://www.elportaltheatre.com/
Before I go into the films and filmmakers let me let you know who won the festival awards:



10 Degrees Hotter Awards
Feature Film: CARTS Directed by Chris Cashman
Short Film: THE ANGEL Directed by Paul Hough

Audience Awards
Comedy Short: HITLER'S BOWL Directed by Matt Gamboa
Dramatic Short: DESERT ROSE Directed by Omi Vaidya
Family Short: WATER DAMAGE Directed by Kellen Moore
Girls on Film Short: THE ACT Directed by Susan Kraker and Pi Ware
Horror Short: CRITICIZED Directed by Richard Gale
Made in the (818): THE FRANK ANDERSON Directed by Dave Perkal. Written by Orit Schwartz.

Now for the films Round 1.
HORROR NIGHT

By Appointment Only
Directed By John Faust

Synopsis-Jane has left the big city behind in search of a more peaceful, country life. But when Jane finds the perfect old house for sale, she learns that buying a house can kill you.
This was a film full of foreshadowing. A very quirky and original story about desire and fear. Well acted and filmed. Matt Ryan as the male lead longing for escape and unable to make a change was entrancing to watch.

Criticized
Directed By Richard Gale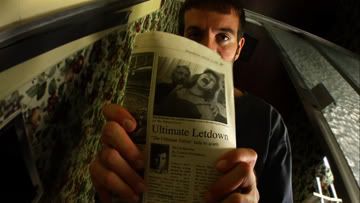 Synopsis-A prominent film critic writes a scathing review of a new horror film, and is abducted by the film's mentally-unstable director, who subjects him to an eye-opening experience.
Funny enough. I have thought about this. An unhinged filmmaker goes crazy on a critic. This sounds like a comedy to me. However, this film is anything but funny. This is a dark disturbing ride that dares you to not avert your eyes. I think its a powerful ride! The horror genre has found a new voice, and I can't wait to see what he does next.
The Eyes Of The Panther
Directed By Michael Barton

Synopsis-A young woman's refusal of her lover's marraige proposal turns out to be for his own good as mysterious events surrounding her birth are revealed. The clever vision of American author Ambrose Bierce comes to life in this adaptation of his gothic fairytale:" The Eyes of the Panther."
A beautifully crafted film that is well acted and darkly shot. The time period was captured nicely and was very believable. I love period pieces and this film holds true to the darkness of the time period.
http://www.eyesofthepanther.com/
The Haunting Of Seaside
Directed By Ron Rogge

Synopsis-A salty old seaman tells of the mysterious, haunted events of Seaside and Legend of Peter Blacksmith. All shown in the Digital Cinematic style, as used in "Sin City" and "300"
This is a nice little haunted tale. It was originally made as an intro to a haunted house exhibit. They submitted it to the film fests and has been playing quite a few. It was fun.
The Intruder
Directed By Allesandro Ceglia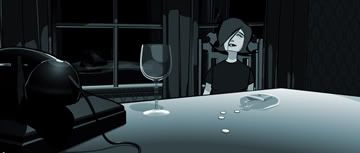 Synopsis-A woman, alone in her house, has been receiving a series of mysterious phone calls. When she attempts to calm her nerves with a mixture of medication and alcohol, her fears take on a new form.
A breathtaking piece of film noir animation. I felt like it wanted to be longer and I was hoping. What a great film!
www.alessandroceglia.com/theintruder
Revamped
Directed By Jeff Rector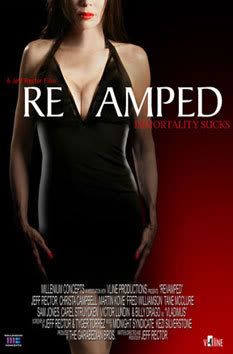 Synopsis-When successful businessman Richard Clarke is bitten by a beautiful Vampire, he is transformed into a creature of the night and plunges into the dark world of the supernatural. When a militaristic Team of Vampire Hunters, The S.T.A.K.E. Team, discover his existence, along with an underground gang of vampires, they are out for blood. All hell breaks loose, and no one is taking any survivors.
This movie was a fun ride from start to finish. I have always had soft place in my heart for vampire films. Most of the time they are to campy or not campy enough. Most of the time the laughs come from the film trying to be scary, and it just can't achieve it. This film, knew exactly what it was and played to its strengths. Well made and well acted, Revamped is a fun ride!

http://www.revampedthemovie.com/

The Angel
Directed By Paul Hough

Synopsis- A young girl stays by her grandmothers bed to protect her from "death" She learns that death has a face and her granmother has other protectors.
I CANNOT SAY ENOUGH ABOUT THIS FILM!!!! I love it! It was dark and disturbing and visually stunning. The acting is excellent as are the action sequences. The twist at the end is bone chilling and I applaud Paul for making an original scary film. A new strong voice in the horror genre! The film stars Eddie McGee from the tv show 'Big Brother'. He surprised me in so many ways, I was stunned. He turned in an excellent performance and made the end of the film a rush of adrenaline. Congratulations!
Kristoffer