ROLLING
Directed By Billy Samoa Saleebey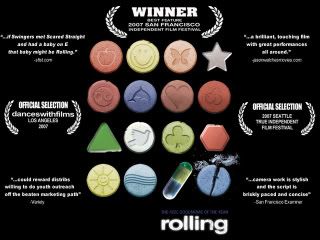 This is the first year of the Cinema City International FIlm Festival. There were many Red Carpet events, stars in attendance and many people being seen at the Universal Citiwalk AMC Theatres. This is just an excellent space for a film festival. My only annoyance at coming to Citiwalk is having to pay to park and dealing with all the crowds on the thoroughfare. I wish CCIFF all the best and welcome to the Festival landscape.

Rolling was the only film I saw at the festival. Regretfully so, since there were quite a few films that captured my imagination. I have heard wonderful things about Finding Kraftland, and we have reviewed both A.W.O.L. and Available Men before. Now rolling right along onto.... well... Rolling...

Rollings tag line is "The Feel Good Movie Of The Year", I suppose this is because the drug Ecstasy is supposed to make you "Feel Good". This film definitely did not shy away from showing you what E can actually do to you, making this film not a "feel good" movie but a stark look at the landscape and realities of the drug culture of the young, pretty and hip.


The film follows the lives of a group of people that are only connected through the fact that they do drugs. They meet at parties and have a good time together. But, it seems that the real connection ends there. One of the characters even vocalizes the fact that most of their friends that matter to them are people they knew before their drug use. It is shot in a faux documentary form at times with intimate interviews with the characters recalling their drug use and this one night that happened. The interviews are interspersed with a narrative story taking place the day and night of the party.

This is where the film lost me a little. Is it a faux documentary or a narrative feature? It felt like it was unsure itself. Which makes the ending of the film a little less impactful. Now saying that, you may be surprised to learn that there were many things about this film I liked. The writer has a great ear for dialogue and characters. The performances were fantastic. And Mr. Saleeley has a fantastic eye. I just wanted to care a little bit more. I felt like I was missing something important about each of them.

The film makes some bold statements about E and drug use without ever being preachy. It does not give an opinion about either side. But to its credit it walks the line and lets you make the choice for yourself. It shows the fun and good times of being 'high' and then shows you the darkness that drug users go into, ie... depression, overdose, fear, money problems, emotional problems, etc.

This movie hits on alot of truths. There were many people who I spoke to afterwards who absolutely loved this film. It was a packed theatre and I know this film sold out 2 screening at Dances With Films.

This film, like all movies, will not be for everyone. But, it has something to say. And I expect that this is an Indie that will get it's chance. Rightfully so.
Check it out at http://www.rollingmovie.com/
Here is the trailer for the film.
Kristoffer