In three days Shreikfest screened 44 films. With 7 World Premieres, 4 US Premieres and 15 LA Premieres, Shriekfest proves to be cutting edge film in the horror and sci-fi world. Most of the films are made completely independently. There were 35 short films and 9 Features, making Shriekfest a true leader in the Horror and sci-fi genre. Because there are so many films in only three days there were no Q&A's. I would have loved to hear the directors talk about creating some of these pieces. But there was no time. The films kept coming and so did the chills!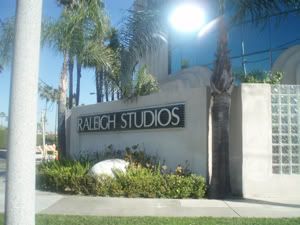 The films were screened at Hollywood's oldest continually operating movie studio, Raleigh Studios located across the street from the renowned Paramount Studios. Parking was easily found on the street, and/or provided in the studio lot for $5 a day. Nothing to complain about. The staff at Shreikfest, including the charming Denise Gossett were friendly, knowledgeable and helpful. My biggest regret is I did not buy one of the cool t-shirts and I had tomiss a few of the films. Alas the problems of going alone.
The films were shown in the wonderful Chaplin Theatre on the lot. The space was fantastic for a one theatre festival and had pleanty of room (and leg room) for all the festival goers. Definitely a place to be seen for all indie film makers and genre lovers! Now to the films.....
A LITTLE NIGHT FRIGHT

Directed By Mischa Livingstone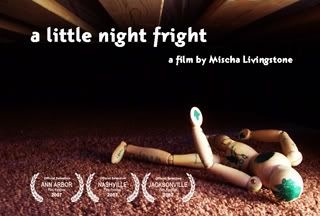 This is a beautiful film that I instantly fell in love with. The children were perfectly cast and the surprise at the end was perfect. A complete gem of a film in three minutes! It definitely answers the question "What do you do with an older brother that torments you?" Well in this film, you know what is lurking in the darkest of places!
THE KILLER
Directed By David Nelson
A fantastic black comedy that sends small shivers up your spine, The Killer is a well crafted film. As soon as I saw Michael Learned's name I was excited. You will also recognize Miguel Sandoval from Medium and tons of other stuff. An extremely well acted film, with a nice little twist at the end. A contract killer tracks his prey to a sweet innkeepers house who has secrets of her own.
NO SANCTUARY
Directed By Dan Lovallo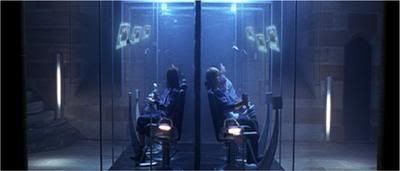 This is a film that has alot to say. I thought it was extremely relevant in today's world. War sometimes seems like it is conducted from behind computer screens and this film puts faces to the people on the street during the battle and the consequences. This Sci-Fi short was well made and acted. A government group conducts real assassinations with a group of young kids who believe they are playing video games. A great theory.
HAPPY BIRTHDAY 2 YOU

Directed By David Alcalde
What a twisted film! And So real. This is a small horror masterpiece. One that I would love to be expanded into a feature. For every image burned onto the screen there were many questions that came out of it. I expect to see alot more from Mr. Alcalde in the horror genre. A school social worker fears that a student is the victim of abuse. She is seeing the face of her own son or brother, (a little unclear). When she tracks him down she brings him a birthday gift. But to her surprise she is also a gift. The last images are a big reveal as we see that she is just as twisted as they are.
LUMP

Directed By Faye Jackson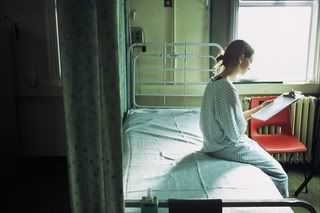 This is truly a sick little film. I am terrified of hospitals and Dr's anyway, but this film made me squirm all the way through. This film is so well acted it plays like a Drama. Every time she gets a lump removed form her breast she mysteriously finds another one and has to go back under the knife. Does the DR truly have her best interests at heart? Of course not! This film also got the hospital, lack of any information, down to a tee. Why can you never get a straight answer in a hospital? Watch this film. (Ominous laughter)
ELI

Directed By Josh Lee Kwai
WOW! What can you say about a film that you did not want to end? Make this a feature film! This was a superbly crafted sci-fi thriller that kept you on the edge of your seat! A man wakes up knowing almost nothing except some strange beach memory of a girl. He sees that the name ELI has been tattooed onto his hand and the ride is off...... This stars David Anders, from Alias and more recently on Heroes as Kensei! He is so great in this film. Run and see it as soon as you can.
http://www.elimovie.com/
for more info!
A.W.O.L.

Directed By Jack Swanstrom
I saw this at Hollyshorts and again at Cinema City. It is definitely making the rounds at all the festivals. Once again, let me say that I really like this film. It is a well made Sci-Fi thriller that knows how to deliver. It is quirky and a new take on an old theory. Well acted and written, you should make sure you see it if possible (And it should be since it seems to be playing everywhere!)
THE CHAIR

Directed By Brett Sullivan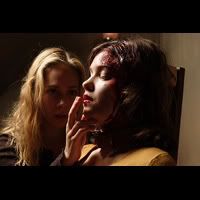 This horror feature was directed by the man who brought us Ginger Snaps. I kinda liked that film and was not sure how I was going to feel about this one. Well, I loved it! I laughed in all the right places and I got all ooey in the right places too. Written by Michael Capellupo this script was a tight thriller that was well acted and well made.
A college age girl (Aren't they all) with some mental problems moves into an old Victorian house to start her life again. She is watched over by her kinda controlling sister and old boyfriend (sometimes). When she moves in strange things start happening around and to her inside the house. Once again (It's the horror movie thing) She stays in the house instead of leaving. Lets say it together shall we.... "When the house says get out, YOU GET OUT!" Instead she delves into the mystery and becomes possessed by the spirit of a man who like to kill children in his torture chair.
Believe it or not. The film is well paced and tightly shot and kept the chills coming. Though I never screamed aloud, I looked over my shoulder when I got in the car.
KRISTOFFER