Highway Amazon
Directed By Rodney Cramer
This film follows female bodybuilder Christine Fetzer( who has since changed her last name to Rocks since the release of this documentary in 2001) across America as she wrestles men in hotel rooms for money. Along the way we meet the men who pay to be dominated by Christine and watch as she maintains her physique with inventive roadside workout techniques.
Overdue Conversation
Directed By Charles Lum
This is a brief documentary between two gay men who hooked up at a local cruising spot years ago, but never told each other they were both HIV positive. And so begins a dialogue regarding HIV status amongst casual sexual encounters and where the line is drawn between ethics, privacy and buzzkill.
Luchando
Directed By Noelle Stout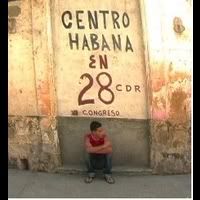 An amazing documentary of same sex prostitution in Havana Cuba. This is a glimpse into the lives of four hustlers trying to make a living in the city's gay underground. Since the Cuban government forbids any filming not approved by state agencies, Stout's informal interviews and guerilla street footage shows a gay culture inundated by sex workers that take care of each other in order to survive. "Luchando" has historically meant the fight for the Cuban revolution, but the hustlers portrayed here have taken the word as their own, meaning survival by way of prostitution. Macho, young countryside men come to the city to have sex with men to purchase such western luxuries as sneakers or raise money for their children. Lesbians have sex with men to support their lovers. "Travestis "transform their bodies with hormones paid for by sex with foreign tourists. These stories depict an ever widening gap between the rich and poor in one of the few remaining countries still practicing socialist principles.
Krimpdaddy