Saturday, September 28, 2007
10th Annual Reel Sisters of the Diaspora Film Festival
Brooklyn New York
By Tiffany Cooper


Where do I begin? First of all, we have to honor and recognize black women in film such as Diahann Carroll (Claudine), Tamara Dobson (Cleopatra Jones) and Pam Grier (Foxy Brown). These women paved the way for us to bring rich, vibrant characters to the big screen that transcend racial and ethnic stereotypes.

This was absolutely the best film festival I've attended even without the carpet treatment. I was completely blown away by all the talent, fierce intelligence and vulnerability. There were sixteen films shown. I loved all, but only 4 moved me to tears and laughter in less than 10 minutes. Now, that's some good writing and acting!

STICKS AND STONES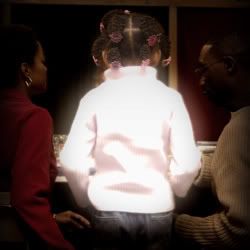 The first film to disturb and penetrate my heart was Sticks and Stones by Rehema Imani Trimiew based on a true story. An engaging narrator guides the audience through a powerful 9 minute drama that takes place during a parent teacher conference late one afternoon. Darryl and Dolores confront their daughter's maligned teacher, Mrs. Martin. Mrs. Marin refuses to accept that their daughter, Rhemea, is literate. Mrs. Martin's misperceptions overshadow this obvious reality. Rhemea is challenged to either fight back or internalize the racial stereotypes.

This film spoke to me personally. I remembered being in second grade and having several teachers who were discouraging because of their own misperceptions. They were just like the teacher (Mrs. Martin). Unthinking teachers can sometimes do much more harm than good.

Produced for only $150, this film is brilliant and a must see!
This film will definitely spark intense dialogue.

Sticks and Stones is the winner of the Best International Student Short Film 2006, Audience Choice Best Short Film 2006, Best Student Film Mediamakers Film Festival 2006, and Best Social Commentary Poppy Jasper Film Festival 2006

Go to http://www.stickesandstonesthemovie.com/

LIFTED
Directed by Randall Dottin


This is the story of a struggling artist. A young mother dancer meets her spiritual guardian on a subway station platform after she abandons her child. This is the story that every artist can relate to on some level. A part of me could relate to the characters inner struggles.



AMERICAN RED & BLACK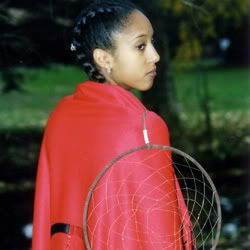 The insightful documentary that I identified with the most was American Red and Black by Alicia Woods. The film follows six Afro-Natives from around the U.S. as they Reflect upon the personal and complex issues of African and Native heritage, ethnic identity and racism within communities. This film struck a cord with me because I'm part Cherokee Indian and its part of my heritage.

MONSIEUR ETIENNE
Directed By Yann Chayia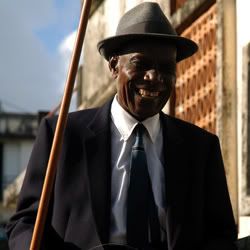 This film moved me to tears and outright laughter! It is set off the coast of France, with breath-taking views of the sunset. The romantic cinematography alone will draw you in. Monsieur Etienne is a story about an old man who spends his life arbitrating the arguments of his two best friends. On the way to their funerals, he finds himself incapable of choosing between the two processions. He undertakes a long and contemplative walk, during which he realizes that it might not be just about accompanying them, but about joining them. This film was moving on several levels … how many times in our own lives have we thought about joining the ones we love instead of living each day to its fullest. Very powerful!

I felt empowered as I left the theatre. I had been moved and was very grateful that I witnessed 16 intelligent, heart felt, witty and passionate films that sparked dialogue within me and my community. But most of all, I'm proud that these films show women of color empowering a generation of young girls with images of strong, smart, proud and confident women.
Tiffany Cooper